Hiring Gen Z Candidates: Why They Ghost, How They Find Jobs, and What They Want from Employers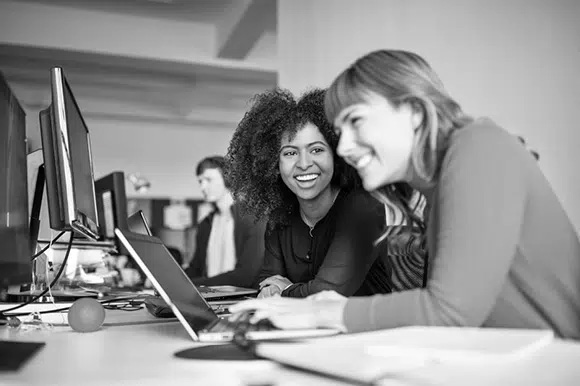 Listen up, employers: Gen Z is the generation that will dominate the workforce by 2030. As the first truly digitally native and most diverse generation ever, you need to be doing all you can to tap into their talents – now!
Even before the labor market was turned on its head by COVID, hiring Gen Z candidates had its challenges. But in a pandemic bounce-back year with a tight labor market, it's imperative for employers with aggressive hiring to figure out how to attract and retain Gen Z workers.
According to NACE's Job Outlook 2022 report, employers plan to hire 26.6% more new graduates from the Class of 2022 than they did from the Class of 2021. In addition, sectors seeking candidates with particular skill sets but not necessarily degrees are also desperate to fill their roles.
The good news is that Gen Z is ready and eager to go to work. The challenge is getting them to choose your organization over the many others that are hiring. Monster recently surveyed this emerging workforce as well as employers to gain some insights into the current hiring landscape. These are a few of the key findings.


Neither Group Feels Like They're Holding All The Cards
The majority of employers (57%) say job seekers have the upper hand in today's entry-level job market. In fact, 72% of employers say they've increased salary for entry-level jobs (above inflation-based increases) in the last 12 months to attract candidates.
Yet, more than half (58%) of recent and impending grads didn't get the memo, citing that it's actually the employers who have the leverage in today's entry-level job market. Fewer non-college grads (45%) said the same, though, possibly reflecting their awareness of publicized worker shortages in sectors like retail, hospitality, and manufacturing.
"It's also a matter of perspective," according to Monster economist Giacomo Santangelo. "The group that's always in power is the one that's more in demand. So in this case, firms looking to hire workers with a specific skill set need that skill set, and workers who have it are the ones with the power. In this case, it's more likely to be the older subset of the 18-24 year old Gen Zers, because they're more likely to have those skills," he says.
Takeaway: Regardless of which group has the upper hand, the goal for recruiters should always be to meet somewhere in the middle so that both parties are bringing value to the table, and getting value in return.


Learn The Secret Behind Ghosting
Ghosting on both sides is prevalent (though many won't admit it), and many are misinformed as to why it happens. For example, just 4 in 10 candidates confessed to ghosting recruiters, but 74% of recruiters say they were ghosted. And while just over one-third of recruiters said they ghosted a job seeker during the hiring process, a much higher percentage (55% of grads and 42% of non-grads) say they were victims of ghosting.
Employers' top theories as to why they think candidates ghosted them include that they already accepted a different position (61%), they were no longer interested in the position (58%), or they didn't think they had a chance to get hired (34%).
But Gen Z candidates aren't letting recruiters off the hook that easily. More than a third who did the ghosting said it was because the recruiter was rude to them or lied about the position. Among candidates without a degree, the number one reason they gave for cutting ties with recruiters is because they took too long to respond.


Gen Z Might Have Unrealistic Expectations
Another thing to consider, says Santangelo, is that the younger candidates have a different outlook of online job searches than older generations might.
"People entering the labor market for their first job have unrealistic expectations built upon years of being able to get instant feedback on their thoughts (Twitter), their meals (Instagram), their dancing (TikTok), even ordering food (GrubHub)," says Santangelo.
"When they apply for a job, they have to wait. They may feel they are being ghosted, but only because no one told them how to manage their expectations."
For recruiters and hiring managers hiring Gen Z candidates, a few words on the job description forecasting a timeline of next steps could help ease the tensions between candidate expectations and recruiting realities.
Takeaway: Recruiting etiquette goes a long way. By simply being professional, transparent, and keeping candidates in the loop, you can stand out from your competitors, while cultivating goodwill with prospective hires.


The Job Search Journey is Dominated by Digital
Among the top tools identified as most important by Gen Z job seekers were job boards (24%) and career networking platforms (15%), beating out college career services and social media.
Non-college grads lean more heavily on local job boards, and 29% of them said social media platforms like Tik Tok and YouTube have been very helpful to their job searches.
Takeaway: Employer branding is more important than ever. From your own career site to job postings to being consistent on social media and networking platforms, sharing your employer value proposition and company values in an authentic way is crucial for any company intent on hiring Gen Z candidates.


Gen Z Cares About Wellness and Diversity
Gen Z is looking beyond salary and benefits to seek out employers that also care about their values and wellbeing. Near and dear to their hearts? Diversity and personal wellness.
Three in 10 college grads said they need to see a employer's commitment to diversity in a job posting or they won't even bother to apply. Likewise, they want to see diversity in leadership (26%), and women in leadership roles (24%).
This generation of college grads is also more interested in holistic wellness, ranking healthcare benefits and 401(k) match more important than perks like unlimited vacation time or free food.
Speaking of healthcare, Gen Z puts a high priority on mental wellness in particular. In fact, 91% of college grads and 83% of non-college candidates say it's important to them to feel comfortable discussing mental wellness at work.
Takeaway: Though competitive salary offers are important, Gen Z candidates are looking at a much fuller picture when evaluating job offers. Be sure to highlight your inclusive culture and wellness support offerings when meeting with younger applicants.


Want More Intel On Hiring Gen Z Candidates?
If you're still reeling from the Great Resignation and trying to fill roles left vacant during the pandemic, finding those right-fit candidates involves a lot of detective work. Who are they? What are their dealbreakers? How can I get them to commit? Luckily, we've got fresh data and insights to help you understand and reach today's job seekers. Our 2022 Future of Work Report is a great place to start. Download this free report today.
Fill out the form below to download Bring on Gen Z: Hiring The Newest Workers
[module-704]